The union of two cities, Buda and Pest, has created a diverse European metropolis on both sides of the Danube. Lush green hills are to the west and a vibrant urban lowland to the east. There is a lot to see in the capital of Hungary: from decorated bridges to the parliament in the Gothic Revival style to the Buda Castle with its cobblestones.
But do not worry – with the centuries-old thermal baths where you can enjoy a swim and the excursion boats you can get into, there are plenty of ways to unwind and relax.
Plan your trip
Best travel time:
Spring (March – May): Now the temperatures in the city rise from 5 ° C in March to pleasant weather with up to 20 ° C at the end of May, making this season perfect for a visit.
Summer (June – August): One heat wave after another heats up the temperature in the streets of the city, with peaks of up to 30 ° C. So be prepared to sweat both inside and outside the city's thermal spas. The Sizget Festival, which is one of the largest music festivals in Europe, makes August a popular travel destination for visitors.
Autumn (September – November): In autumn, spring temperatures are expected with an average of cold 4 ° C.
Winter (December – February): The least popular time to visit Budapest brings snow and dense sub-zero temperatures, which fall to the average low of -2 ° C in December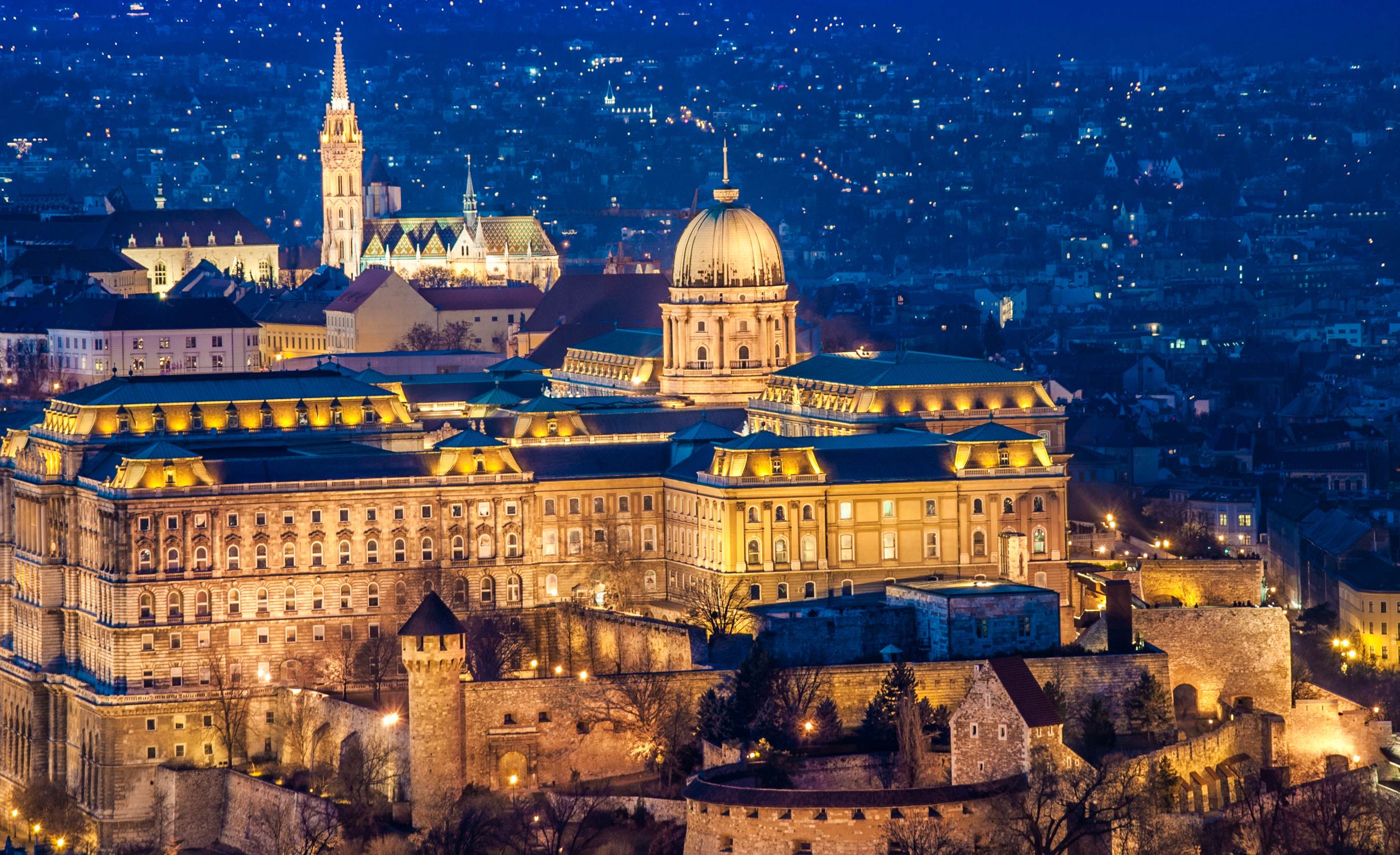 Budapest Schloss in der Nacht
Public transportation
The Budapesti Kozlekedési Központ, or BKK, operates buses, four metro lines, trams and trolleybuses throughout the city. The trams form the backbone of Budapest's public transport system. These little yellow lanes drive through the main roads and offer budget-friendly journeys to various destinations throughout the city.
Single tickets, ten-card and network cards valid for one, three or seven days are available to customers who want to explore the city cheaply. As an alternative, public transport with the Budapest Card can be used indefinitely for up to 24, 48 or 72 hours. In addition, free or discounted admission to several Budapest Card attractions are included.
If you prefer a cheaper taxi, book it through a hostel or the hotel reception. Waving a yellow taxi from the roadside is not excluded, but unregistered taxis are known to occasionally charge excessive fares. Look for the compulsory taxi number in the form of a yellow registration badge and the metered taximeter for the best driving experience.
Under this LINK you will find all important information about renting of bicycles and rental cars in Budapest.
Main attractions
Fisherman's Bastion
Visit the Matthias Church on the Castle Hill, whose roof will amaze you with a mosaic of geometric rainbow tiles. Then head to the broken-white building next to the back of the church for the best views of the city. The name of the castle dates back to the Middle Ages, when the defense of the castle wall was left to the fishing guild.
House of Terror
Today, Budapest is a thriving metropolis, famous for pepper sausage and thermal baths. Nevertheless, the city has a dark history with oppression by fascist and communist regimes. The "House of Terror" Museum is a memorial to the victims of these powers, with exhibits informing visitors about the country's relations with Nazi Germany and the Soviet Union. Here you can calm down and listen to interviews with survivors who have lived through these terrible times.
Széchenyi thermal baths
Bathe in the largest spa in Europe, along with hundreds of other laid-back bathers, and enjoy the yellow interior of the bath, decorated in a cheerful neo-baroque architecture.
The spa can be very good for relieving joint pain and inflammation. In addition, the natural water in the huge whirlpool provides soothing warmth on the coldest winter days. The environment invites to a friendly exchange among the guests who wade through the clear, shallow water.
Fill in the times between visits to the bath and museums with a visit to other sights in Budapest, which you will find in our travel guide "Attractions in Budapest".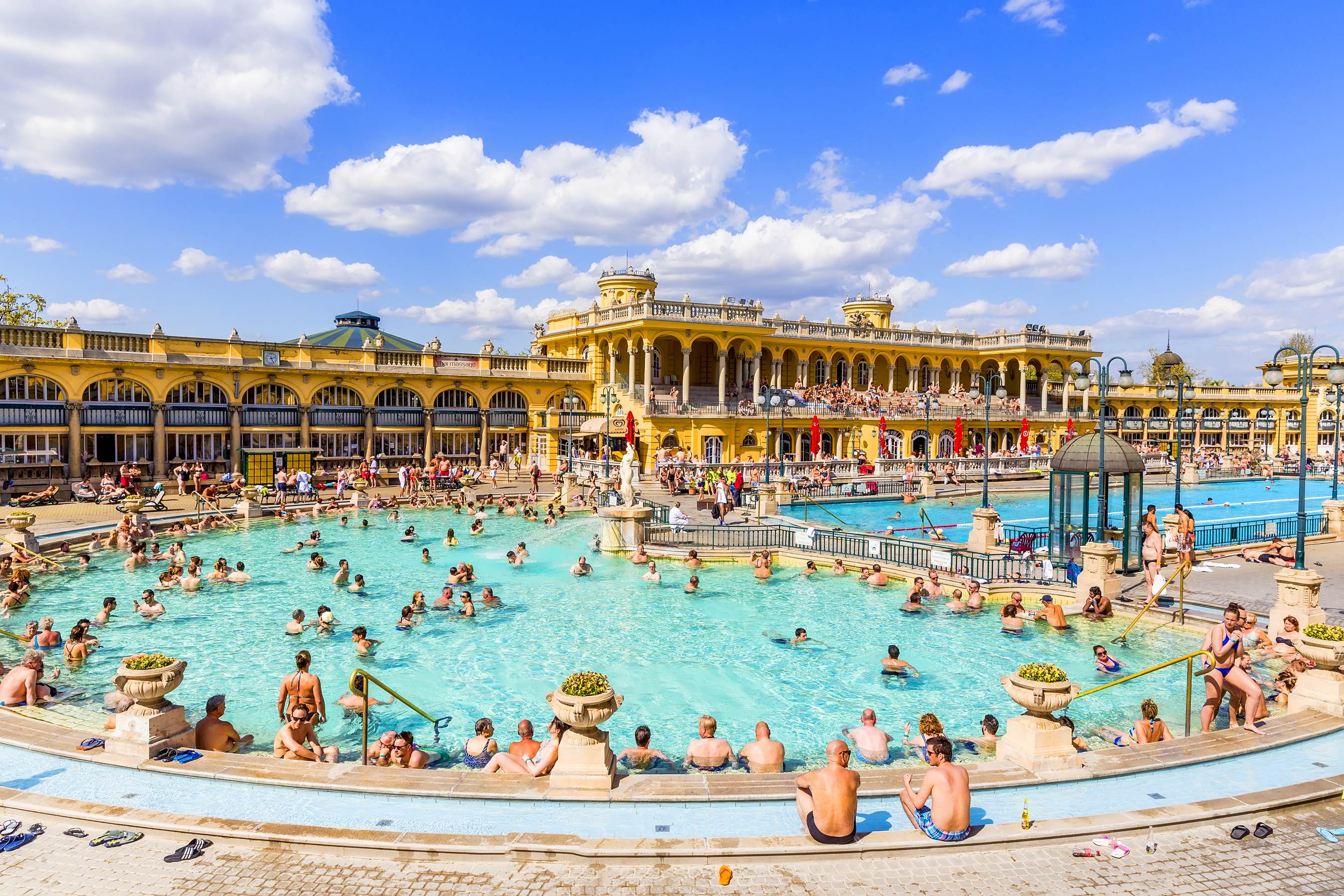 Széchenyi Thermalbäder
Bizarre & unusual
Explore Budapest's stalactites and stalagmites
For the more adventurous, crawling through Buda's underground caves is a great way to experience nature. Take a tour through the caves of Pálvölgyi or Szemlőhegy and see the caves with ancient rock formations in subterranean cool air.
Set sail on the Danube
The river, which separates Buda and Pest, offers many opportunities for boating, both for party animals and for couples who want to spend a romantic time.
Enjoy a cocktail during a leisurely 3-hour boat ride, or opt for an adrenaline rush on an exciting speedboat ride. The latter is the fastest and most exciting way to visit the sights of Budapest.
Plan unique adventures and book tours through our travel guides in Budapest.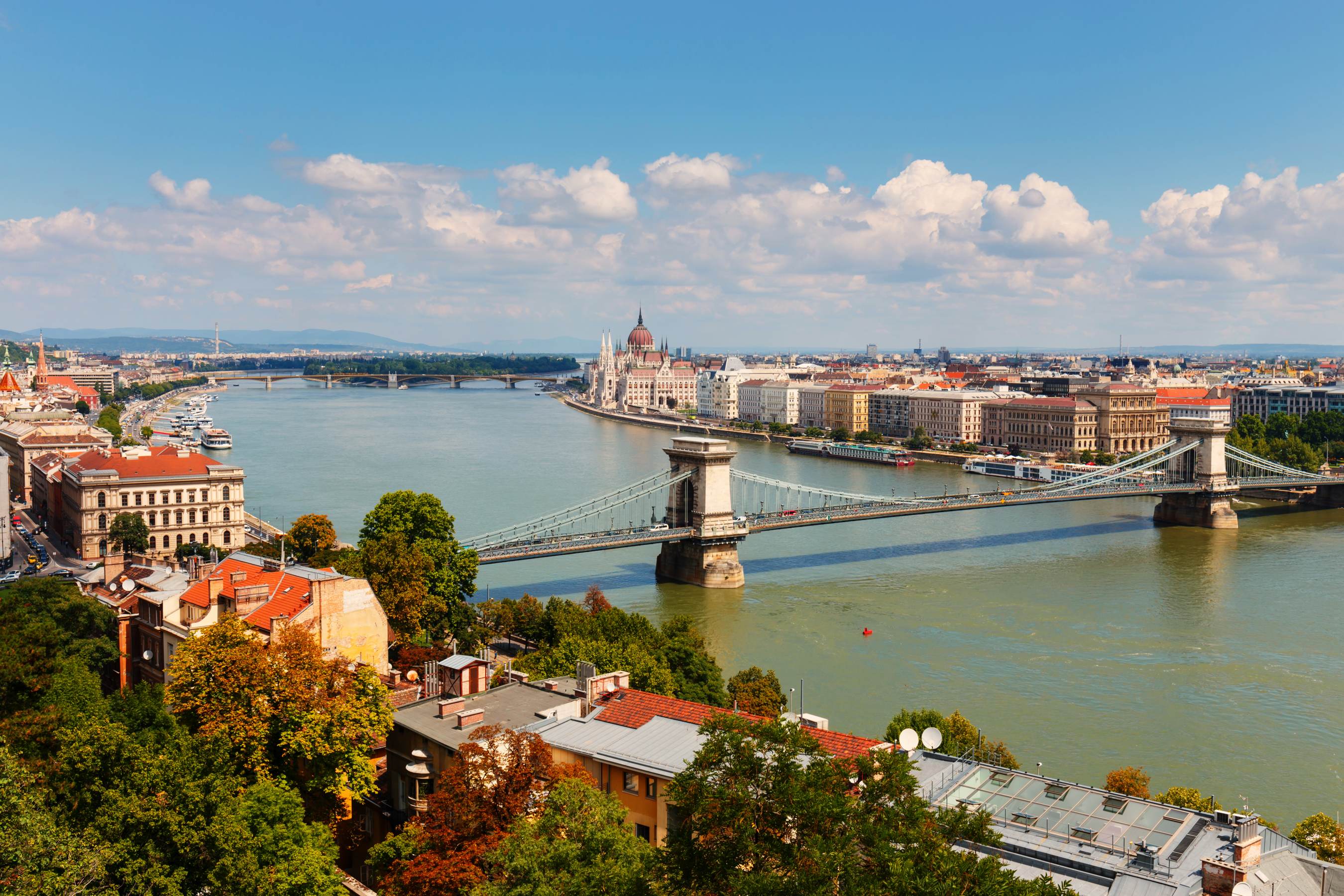 Setzen Sie die Segel auf der Donau
travel Tips
Food that you must have tried in Budapest:
Kolbász

– A sausage that is a ubiquitous street food in Budapest – and none of it is as famous as the pork delicacies and a good dose of paprika.

Nokedli

– Small dumplings made from pasta rasps cooked in hot water.

Their buttery taste complements savory dishes such as goulash and Hungarian paprika chicken.

Lángos

– Similar to pizza, but better.

These deep-fried doughs carry sour cream, cheese and many other delicious toppings.

Töltött káposzta

– cabbage leaves stuffed with a meat-rice mixture and garnished with sour cream, – the perfect meal on a cold day.

Kürtőskalács

– A sweet cylindrical bread, also known as a "chimney cake", generously covered in sugar.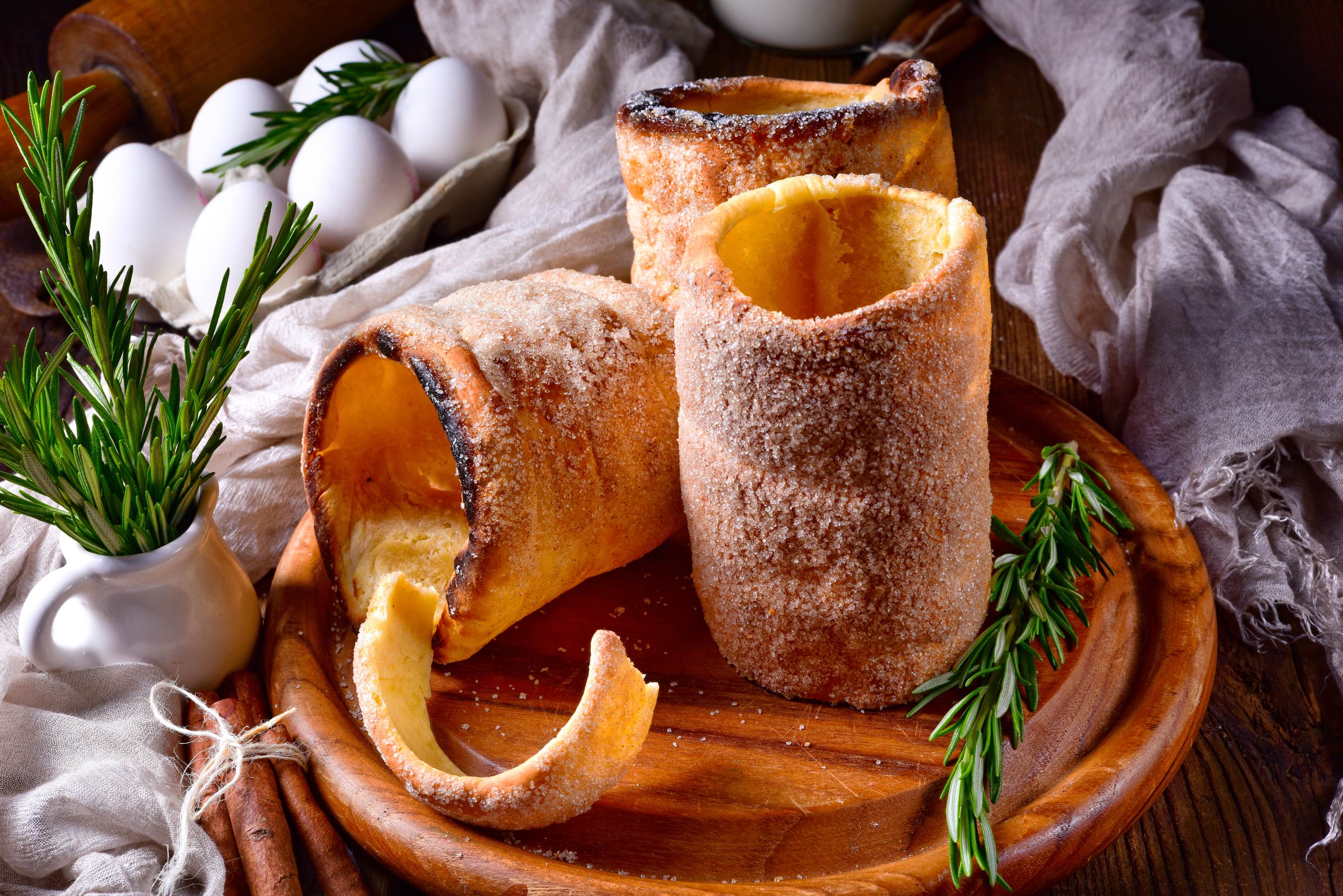 Kürtőskalács
Tipping:
Usually, about 10% tip for good service.
If you want to taste even more dishes and are looking for the best restaurants for you, have a look at our Travel Guide Food & Drink in Budapest.
Hotels in Budapest
Budapest is considered an ideal destination for backpackers on a budget and for wealthy tourists. For all, the city offers a wide range of accommodation.
Luxury hotels such as the Buddha-Bar Hotel and the New York Palace Hotel provide guests with an interior decorated with modern elements and vintage style.
The expensive hotels can be found in central locations of the city near the sights. There are also cheap accommodations in this location.
The reasonably priced NH Budapest City Hotel is located on the edge of Pest. From there you have quick access to the bridges leading to the more attractive Buda. For more hotel recommendations that meet your budget, visit our Budapest hotel guide.
Nightlife in Budapest
Famous for its clubs and ruin pubs that adorn abandoned buildings, the nightlife of Budapest has something unique.
Szimpla Kert's popularity may be a deterrent to those who want to avoid tourist traps, but this bar is anything but praised. The multi-storey abandoned building has graffiti-covered walls, antique furniture and a dance floor. Other ruin pubs copy this landscape, so you can easily lose yourself in the maze of various abandoned buildings. Further recommendations and suggestions for ruin bars and clubs can be found in our Guide Nightlife in Budapest.
Shopping in Budapest
Unlike Andrássy Avenue, a UNESCO World Heritage Site, the city's shopping streets are not necessarily designed for high-end designers. Instead, they house charming shops that sell a range of local goods and crafts. Find famous brands and smaller shops in Buda and Pest, or check out the various markets that are built on the sidewalks on weekends when the weather is nice. Special souvenirs can be found in the big market hall, where there are also food to buy. How about a packet of paprika, for example, as a reminder of your stay in the city? More information about shopping opportunities can be found in our Budapest shopping guide shopping in Budapest.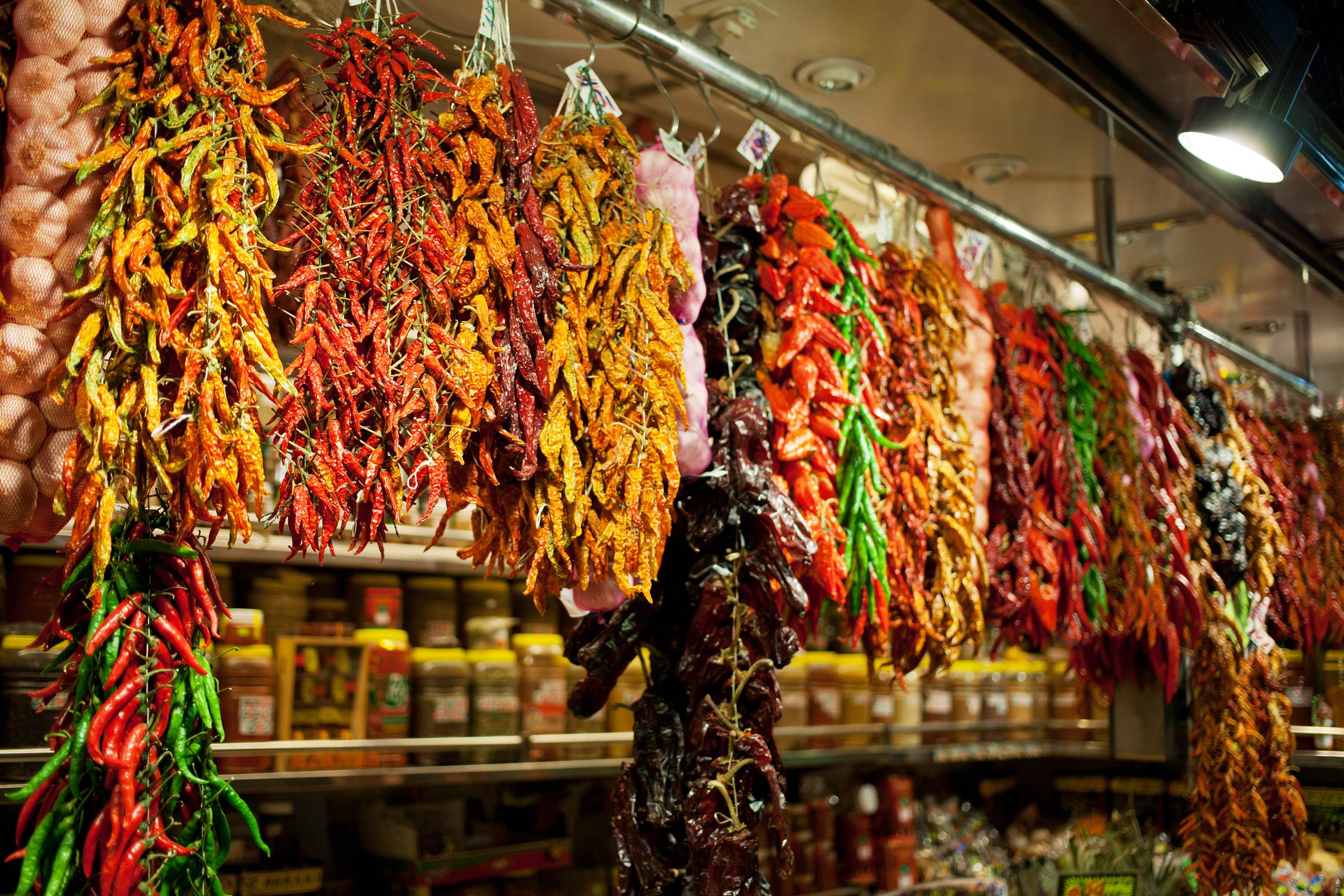 Einkaufen in Budapest
Visa requirements for Budapest, Hungary
American, Canadian, Australian and British nationals should have a passport valid for three months beyond the length of stay and issued within the last 10 years to meet the entry requirements. EU citizens only need to have a passport or identity card valid for the duration of their visit. For more information about the documents you need to visit Budapest, visit the Entry Requirements for Hungary page.